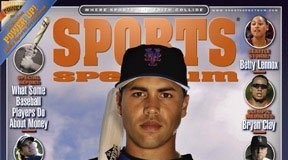 From the Archives — Center Stage
Many didn't think the Saint Louis Cardinals would be in the playoff hunt without Albert Pujols, but the Cards are once again contending for the playoffs, and Carlos Beltran is having his best home run season since 2007, the third best in his 15-year career, and has tallied his most RBIs since 2008. This story was published in the July-August 2005 issue of Sports Spectrum.
It would make perfect sense if Carlos Beltran were just a little uncomfortable in New York. Actually, it's strange that he's not.
Suddenly, he's one of the biggest names in the biggest media market in the country. When he pulled on a Mets uniform before the first day of spring training, he had about 15 reporters watching his every move—a stark contrast to the scene a year ago when he was playing the final year of his contract in Kansas City…
Copy and paste this URL into your WordPress site to embed
Copy and paste this code into your site to embed